Yacht Charters
With literally thousands of yachts available to charter, it is a complicated choice. But it does not have to be when Luxury Yacht Concierge custom-creates an experience for you and your guests throughout Greece, Turkey, the west Mediterranean (Italy, France, Ibiza, Spain), and the Caribbean for yacht charters like no other.
Our luxurious yacht charters range from performance sailing yachts to the new breed of mega yachts, with mouth-watering cuisine, exemplary service, diverse destinations and world-class accommodations. Our discerning clients draw from over 100 years of our yacht charter brokers' experience in the industry to discover the finest art form of travel.
Imagine a hotel with a ratio of one member of staff to every guest; a restaurant where you pick the gourmet cuisine; a seven-star resort on the sea where you can relax and enjoy the amenities and services that are incomparable, and an incredible itinerary that enables you to decide where to go and when, all at your own pace.
Your yacht charter awaits…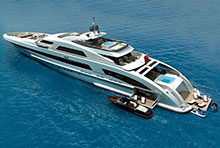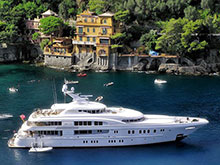 | ENDLESS SUMMER | |
| --- | --- |
| Builder | Westport |
| Year | 2004 |
| Length | 39.6m |
| Guests | 12 |
| Cabins | 6 |
| Captain's Nationality | Greek |
| Rate | 105,000 EUR per week (Terms: +ALL) |
| O'PATI | |
| --- | --- |
| Builder | Golden Yachts |
| Year | 2011 |
| Length | 39.5m |
| Guests | 12 |
| Cabins | 5 |
| Captain's Nationality | Greek |
| Rate | 108,000 EUR per week (Terms: +ALL) |
| KINTARO | |
| --- | --- |
| Builder | Cantieri di Pisa |
| Year | 2005 |
| Length | 38.1m |
| Guests | 12 |
| Cabins | 6 |
| Captain's Nationality | Greek |
| Rate | 95,000 EUR per week (Terms: +ALL) |
| DRAGON | |
| --- | --- |
| Builder | Guy Couach |
| Year | 2010 |
| Length | 36.9m |
| Guests | 12 |
| Cabins | 6 |
| Captain's Nationality | Athens |
| Rate | 105,000 EUR per week (Terms: +ALL) |
| LET IT BE | |
| --- | --- |
| Builder | Technomarine |
| Year | 2000 |
| Length | 36.0m |
| Guests | 10 |
| Cabins | 5 |
| Captain's Nationality | Athens, Greece |
| Rate | 65,000 EUR per week (Terms: +ALL) |
| CAN'T REMEMBER | |
| --- | --- |
| Builder | Tecnomar |
| Year | 2004 |
| Length | 35.6m |
| Guests | 12 |
| Cabins | 6 |
| Captain's Nationality | Athens, Greece |
| Rate | 59,000 EUR per week (Terms: +ALL) |
| HELIOS | |
| --- | --- |
| Builder | Falcon |
| Year | 2010 |
| Length | 35.5m |
| Guests | 12 |
| Cabins | 5 |
| Captain's Nationality | Alimos Marina, Athens |
| Rate | 75,000 EUR per week (Terms: +ALL) |
| PARIS A | |
| --- | --- |
| Builder | Maiora |
| Year | 2009 |
| Length | 35.1m |
| Guests | 12 |
| Cabins | 5 |
| Captain's Nationality | Greece |
| Rate | 73,000 EUR per week (Terms: +ALL) |
| MILOS AT SEA | |
| --- | --- |
| Builder | Codecasa |
| Year | 2000 |
| Length | 34.5m |
| Guests | 10 |
| Cabins | 4 |
| Captain's Nationality | Athens, Greece |
| Rate | 65,000 EUR per week (Terms: +ALL) |
| SUMMER DREAMS | |
| --- | --- |
| Builder | Admiral |
| Year | 2003 |
| Length | 34.4m |
| Guests | 12 |
| Cabins | 5 |
| Captain's Nationality | Athens |
| Rate | 60,000 EUR per week (Terms: +ALL) |
| FELIGO V | |
| --- | --- |
| Builder | Cantieri di Pisa |
| Year | 2008 |
| Length | 33.8m |
| Guests | 12 |
| Cabins | 5 |
| Captain's Nationality | Athens |
| Rate | 65,000 EUR per week (Terms: +ALL) |
| MARNAYA | |
| --- | --- |
| Builder | Maiora |
| Year | 2010 |
| Length | 32.8m |
| Guests | 12 |
| Cabins | 5 |
| Captain's Nationality | Athens, Greece |
| Rate | 59,000 EUR per week (Terms: +ALL) |
| HAPPY DAY | |
| --- | --- |
| Builder | Benetti |
| Year | 1969 |
| Length | 31.5m |
| Guests | 10 |
| Cabins | 4 |
| Captain's Nationality | Thessaloniki |
| Rate | 50,000 EUR per week (Terms: +ALL) |