Helicopter Excursions

Our Helicopter James Bond "For Your Eyes Only" excursion is a must live.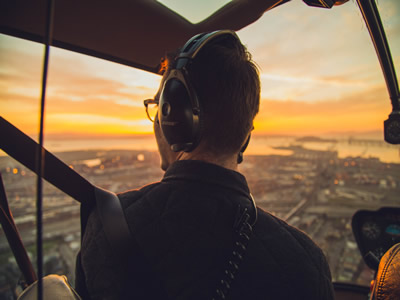 Spectacularly perched atop rocky pinnacles in Thessaly, the Meteora monasteries are among the most striking sights in Greece. The name Meteora (Μετεωρα) is Greek for "suspended in the air," which perfectly describes these six remarkable Greek Orthodox monasteries. The sandstone peaks were first inhabited by Byzantine hermits in the 11th century, who clambered up the rocks to be alone with God. The present monasteries were built in the 14th and 15th centuries during a time of instability and revival of the hermit ideal; the first was Great Meteoron (c.1340) and there were 24 monasteries by 1500. They flourished until the 17th century but only six survive today; four of these still host monastic communities.
Your excursion will begin as you are transported in luxury to the helipad which you will fly you over the majestic Greek terrain to Meteora. After the tour above the breathtaking mountains the voyage continues as you will be able to visit the monastery, of made famous by James Bond, Agia Triada (also Ayías Triádhos, Ayia Triada or Aghia Triada; "Holy Trinity") which is probably the most dramatically positioned monastery of the Meteora. It is perched atop a slender pinnacle and accessible only by 140 steep steps, making it one of the most amazing monasteries.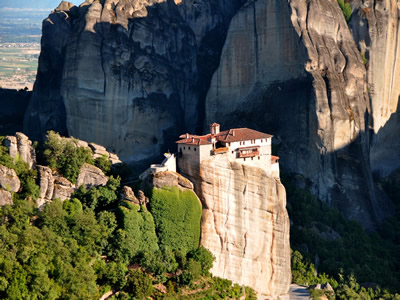 After a delicious lunch, with local delicacies and homemade wine with Chipouro that is similar to Grappa. Your adventure continues to Theopetra's Prehistoric Cave of the oldest known man-made structure on earth. The cave lies at the foot of the Chasia mountain range, which forms the natural boundary between Thessaly and Macedonia prefectures, while the Lithaios River, a tributary of the Pineios River, flows in front of the cave. The small Lithaios River flowing literally on the doorsteps of the cave meant that cave dwellers had always easy access to fresh, clean water without the need to cover daily long distances to find it.
Your tour ends on your way back to Athens with a glass of chilled champagne as you fly over the spectacular sunset.
This excursion is for 4-5 people and reservations are mandatory.

Helicopter Tour of Athens

See Athens and beyond by air and see the spectacular and historic city from truly panoramic view. The tour is a 50 minute tour that takes you over the full list of ancient ruins all the way to Sounio and back.
Flying the lowest and slowest for an optimal helicopter sightseeing trip of Athens and Piraeus. Some of the spectacular views of Athens that you'll see include the Acropolis and Parthenon, the 1896 Olympic Stadium, and down to Cape Sounio and back.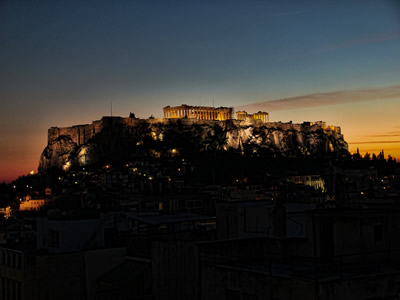 Helicopter Greek – Island Hopping
The best way to go from island to island is with a helicopter. Go from Athens to Mykonos and a few days later from Mykonos to Santorini and back to Athens. We can custom create an island hopping itinerary.
The possibilities are endless!